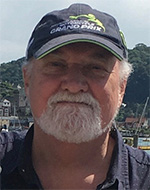 24 June 2020
It is my very sad duty to let you know that Bill Henderson, manager of Pallotti College with his wife Mary Anne, has passed away. As you can imagine, his passing has left a huge hole at Pallotti and in our hearts. His warm, generous and happy welcome was so much part of this place.
Bill's funeral will be streamed on Friday, 26/6 at 11:00 for anyone who would like to join this tribute to this wonderful man.
http://tobin.5stream.com/webcast/54138
(Password: tbw977)
[Please use the latest version of Google Chrome for the webcast]
In place of flowers & other tributes, we are trying to fundraise $ in honour of William (Bill) James Henderson at Lung Foundation Australia.
In place of flowers & other tributes, we are trying to fundraise $ in honour of William (Bill) James Henderson at Lung Foundation Australia.
Please help us by making a donation at:
https://lungfoundation.grassrootz.com/in-loving-memory/in-memory-of-william-bill-james-henderson
It would be wonderful to have research into the lung condition which took Bill's life & for which they seem to have few answers.
It only takes a minute and any money you can give (no matter how large or small) will go a long way. All money fundraised will help Lung Foundation Australia.
Thank you, we really appreciate your support.
16 June 2020
Vale Bill. So sorry to have to write this - the saddest one of my life.
Bill passed away on 15th June due to his exiting lung condition which deteriorated quite quickly, landing him in hospital ICU. Even though he was transferred to the ward, he was on constant oxygen & meds; his condition got worse & he slipped away peacefully.
We all have our own memories of Bill to hold on to at this time. He was a loving& devoted husband & soulmate, a loving father, good mate to so many. His fierce loyalty, positive outlook, happy smile, Gentle chuckle, joy for life (especially a good red) & love for so many people in his life (especially his 'adopted' overseas kids)will be so missed. There's a huge hole where he should be.
All my love, Mary Anne
...
Nestled in the foothills of Mt Donna Buang the property affords stunning views overlooking the valley and surrounding mountains, in a peaceful rural environment.
Our ministry is one of hospitality and welcome, providing a quiet place for prayer, reflection and renewal for our guests.
The beautiful setting and relaxed atmosphere has for many years been a place to find balance in our busy lives, to "come away for a while" and find peace and rest with God.
As a centre for retreats, conferences and holidays we offer a wide range of possibilities to people of all faiths, our guests include individuals, church and parish groups, guided retreats, school retreats, staff in-service, families, respite time for carers, meditation and special interest groups.
Take time to stroll in our grounds, walk the Labyrinth, enjoy the Yarra Valley at our doorstep or visit our chapel for some quiet prayer time.
Our friendly professional team are committed to meet your individual needs and to ensure your stay leaves you refreshed and renewed.